Cornwall man Philip Thomas died after lungs mix-up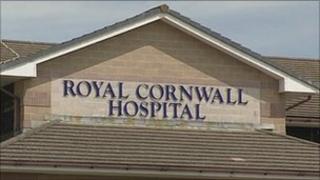 The Royal Cornwall Hospital has changed its procedures after a man died following a biopsy for suspected lung cancer.
An inquest in Truro heard one of Philip Thomas's lungs collapsed, but a doctor trying to re-inflate his lung inserted a chest drain into the wrong side.
The hospital has now changed the way it marks lungs before this procedure.
Coroner Emma Carlyon recorded a narrative verdict that the patient died during a necessary procedure.
The inquest at Truro City Hall heard that Mr Thomas, 60, from Camborne, had undergone a needle biopsy on his left lung when it collapsed.
Heart attack
A doctor on standby picked the wrong lung to conduct the chest drain.
The lung had been marked as Mr Thomas lay on his front but he was then turned over on his back and the doctor conducting the chest drain did not see the mark.
Shortly after the failed chest drain Mr Thomas suffered a heart attack and died.
Ms Carlyon said in the narrative verdict: "Philip Ernan Thomas died from a pneumo thorax following a necessary biopsy for lung cancer."
The hospital extended its "sympathies" to Mr Thomas's family and said it now marked patients on their side to make it easier for doctors to identify.
It added: "We are now actively pursuing a change to British Thoracic Society guidelines which we hope will bring about higher standards of care and safety across the country."