Honorary knighthood for Eden Project founder Tim Smit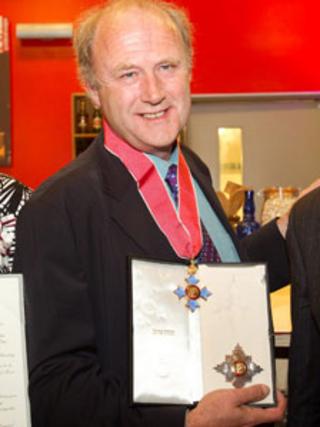 Tim Smit, the co-founder of Cornwall's Eden Project, has been presented with an honorary knighthood.
He was presented with his KBE by the Lord Lieutenant of Cornwall Lady Mary Holborow, on behalf of the Queen.
Mr Smit, 56, who was appointed a CBE in 2002, was given the honour in recognition of the his services to public engagement with science.
The Dutch-born environmentalist is not eligible for a full knighthood because he is not a British citizen.
He also helped restore the Lost Gardens of Heligan and described his KBE as "bling with attitude".
Lady Mary said Mr Smit's part in Heligan and Eden was "one of the most spectacular stories in Cornwall", adding that it was a privilege to be asked to present the award to "someone who makes things happen."
More than 13 million people have visited Eden's futuristic biomes since they were created in a former china clay pit near St Austell in 2001.
The biomes, built to recreate the world's different climates, house thousands of different plant species and the aim is to educate by showing how sustainable development depends on plants.
Mr Smit celebrated his honour with family, friends and colleagues at the Eden Project.
He paid tribute to the people he has worked with both at Eden and Heligan.
"What's great about Eden and Heligan is that there's a sense of that phrase 'falling into good company at the right time'," he said.
"Heligan and Eden are good examples of people meeting at the right time to do something special."