Cornwall Council could delay bus concession reductions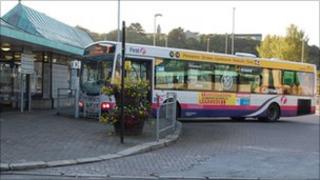 Proposed cuts to the subsidy paid to bus operators for concessionary travel in Cornwall could be delayed.
Cornwall Council was considering a recommendation to reduce the subsidy from 73.5% to 50%.
But the council's scrutiny committee has voted to delay any cuts until April 2012.
It also wants bus funding to be a priority in the next budget. Its recommendations will go to cabinet for approval next week.
Bus operators have warned that reducing the subsidy could put some routes under threat.
The council currently provides support for about 60% of bus journeys in Cornwall.