Saltash.net students create app for timetable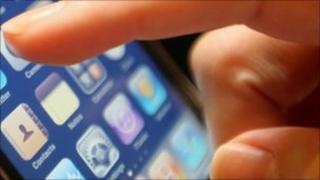 Two Cornish students who produced a school timetable app for pupils and teachers have been praised for their "special" achievement.
Ryan King and Ethan Pierce, 16, from Saltash.net Community School spent 18 months developing the Etable App.
It is designed to help users with organisation, planning and homework.
The app, which is available on iTunes and Google's Android platform, went live on 8 September.
The school said the app enabled students and teachers to create personalised one week or two-week timetables.
It was originally inspired by a Media Studies assignment and the students were helped by their business studies teacher, James Edwards, to create it.
'Excited and proud'
The App costs £0.69 to download, of which £0.42 will be going to the school to "reinvest" in resources for students.
Ryan said: "I am excited and feel proud of what we have achieved.
"At one point I didn't think we would get this far, as we had a number of setbacks, but I am really pleased we kept going and now, with the app in an online store in front of more than 20 million users, I think it could go global."
Head teacher Isobel Bryce said: "I am so pleased that all of Ryan and Ethan's hard work has come to fruition.
"The fact that this is one of the first apps in the UK designed by students to appear in the iTunes store makes what these young people have achieved even more special."
Correction: Some quotes have been removed from this story which were mistakenly thought to have been supplied by the school.