Cornwall cliff fall men taken to hospital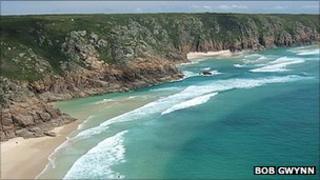 Two men who fell 25 feet (7.6m) from cliffs in Cornwall have been taken to hospital with suspected spinal injuries, coastguards said.
The men, one believed to be from Dorset and the other a German, fell at Porthcurno at about 15:45 BST.
Two ambulances, Land's End Cliff Rescue and Porthcurno Coastguards were involved in the operation.
The men, thought to be in their forties, were taken to the Royal Cornwall Hospital, coastguards added.