Increase in stroke victims saved by Air Ambulance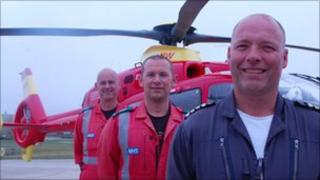 There has been a big increase in stroke victims flown to hospital for life saving treatment, since the start of a TV campaign.
Cornwall Air Ambulance paramedics said so far this year they have picked up 35 stroke patients compared with just 26 in the whole of 2010.
The FAST television campaign explains a series of simple tests to tell whether someone has had a stroke.
Even patients who collapse in remote areas are recovering well.
FAST stands for Face, Arms, Speech and Time. The campaign advises that the quicker the patient gets to hospital, the more chance they stand of surviving.
Cornwall Air Ambulance paramedic, Neil Lentern, said: "We've even picked up people from the Isles of Scilly, got them into Treliske Hospital in Truro, taken them into the scanner, and they have been thrombolysed within the three-hour window. They have been discharged home to good effect."
Ringo Sampson, from Carbeen near St Austell, had a massive stroke after a weak point in his aorta burst.
He said: "I should be dead without a doubt. Anyone looking at the whole scenario could pinpoint where I should have died.
"The only thing that steps in between that is the air ambulance."