£25,000 counterfeit tobacco seized in Cornwall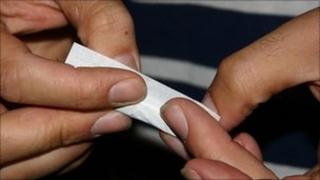 Trading Standards Officers have seized a large quantity of counterfeit tobacco from premises in mid Cornwall.
More than 125kg of raw tobacco found in black bin liners is believed to a street value in excess of £25,000.
Trading Standards said the money made from sales of illegal tobacco is often used to fund serious organised crime.
Martin Fisher, from Cornwall's Trading Standards, said: "We'd advise smokers not to be tempted by cheap tobacco as they don't know what it contains."
He added: "Whilst this batch of tobacco has not yet been tested, counterfeit tobacco has been known in the past to contain levels of chemicals at over 70 times the strength of legitimate tobacco products."
Trading Standards said counterfeit tobacco is becoming increasingly prevalent, with criminals taking care to ensure their product looks exactly like the genuine brands.
Customers are often fooled into believing they have bought non-UK duty paid tobacco by health warnings which are printed in different languages.
Mr Fisher said: "It is becoming increasingly difficult to tell the difference between counterfeit and genuine tobacco. The only way to ensure that the tobacco that you are smoking is legitimate is to purchase it through a trusted retailer."