Bude teenager airlifted to hospital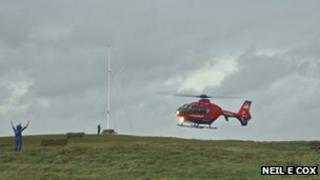 A teenager has been airlifted to hospital after an accident on his surfboard in north Cornwall.
The 15-year-old surfer hit a handrail at Bude's sea pool on Summerleaze beach on Monday evening at about 19:00 BST.
The boy, who is thought to be local, sustained injuries to one of his hips and was taken to hospital in Exeter.
Cornwall has been experiencing large swell from the remnants of the tropical storm Katia.
Phil Mathias from Falmouth Coastguard,said: "We just want to reiterate there's still quite a bit of swell around.
"Just be aware if you're out there surfing, that you're not going out there in conditions that are too big for the experience you may have.
"It is easy to get into trouble with these large swells we're getting at the moment."