Tropical storm Katia causes damage in Cornwall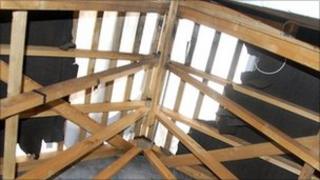 Widespread damage has been caused to properties across Cornwall as the remnants of tropical storm Katia moves across the UK.
Residents have been assessing the damage after homes were struck by lightning causing damage put at thousands to repair.
At Widemouth Bay, near Bude, a lightning strike blew a hole in and set fire to the roof of a house.
Owners, Mick and Gladys Goodey said "it was like a bomb going off".
Mr Goodey said: "I should imagine there are two or three hundred tiles off the roof, the aerial was blown to bits, and the actual booster was found about 50 yards up the road, it was really bad and very loud."
Theodora Vanesh, who lives opposite the property, said she was standing at the window watching the lightning getting steadily closer.
"Suddenly there was this tremendous crack that knocked me sideways."
The lightning strike destroyed dozens of televisions and fried electrical sockets.
Another house was struck on the same night at Feock near Truro, again causing extensive damage.
Mr Goodey, a retired fireman, said it was the "worst lightning damage" he had ever seen.
There have also been claims that a tornado was spotted between Polruan and Fowey at the weekend which damaged several boats.
Tropical storm Katia has hit parts of Wales, northern England and Scotland.
Around 1,000 homes in the north east of England are still without power - and around 100 homes in Ayrshire and Dumfries.