Cornwall Council 'stalling' over Big Society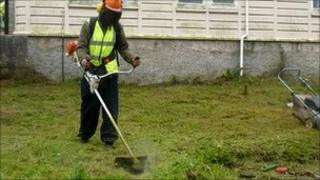 Cornwall Council is failing to support the government's Big Society initiative, a community group has said.
The Redruth North Partnership (RNP) said it was keen to take over responsibility for some neighbourhood work but claims it is being ignored.
RNP manager Kevin Hawke said "little progress was being made".
The council, a Conservative-Independent coalition, said it was committed to the Big Society idea but was having to deal with 213 different communities.
The lottery-funded partnership is a group of residents' associations and community groups in the Redruth North Ward which work with statutory service providers.
The RNP, which led Redruth's teenage curfew three years ago, said its volunteers could carry out a range of jobs, including electrical work, plumbing and maintaining public toilets.
Manager Kevin Hawke said he believed it could take over contracts from the council.
'Win-win situation'
Mr Hawke said: "Certainly from conversations I have had with Cornwall Council officers and town council officers, there seems to be a stalling problem where they can't agree on what the figures are going to be for the services they wish to provide."
The cabinet member for localism and devolution, Councillor Ray Tovey, said the group should negotiate with town or parish councils.
Mr Tovey said: "They have public liability issues that they can then blanket over any particular group that they wish to work with.
"I think it would be very difficult for us as a council to find, say in Redruth, one community group to provide one service and another to provide another service."
Redruth mayor Ian Thomas said Cornwall Council could be "missing out".
He said the council should bear in mind, that while it was making efficiency savings, it could be a "win-win situation if work is delegated to a more local authority".
Another community group, Falmouth's Beacon Community Regeneration Partnership, has won national awards for its neighbourhood projects.
However Grenville Chappell, from Beacon, says the Big Society initiative "isn't winning support locally".