Agency surveys two Cornish rivers in east Cornwall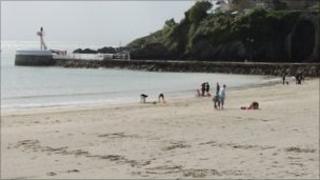 The Environment Agency is carrying out surveys of two Cornish Rivers to trace pollution sources.
The agency fears pollution could be to blame for poor water quality at nearby beaches.
Both Seaton and East Looe beaches have been identified as being 'at risk' of failing new bathing water standards that come into force next year.
Scientists are inspecting farms, private sewerage systems, industrial units, roads, forestry and woodlands.
Once the pollution source has been found, the agency said farmers will be encouraged to "take voluntary action to tackle the problem with support from the agency and catchment-sensitive farming offcers".
Farmers will be expected to have at least five months slurry storage from 1 January 2012.
The agency said this will avoid the need to spread slurry on farmland during the autumn and winter, when it can run off into rivers and streams causing pollution.