A Cornishman's six months in Helmand Province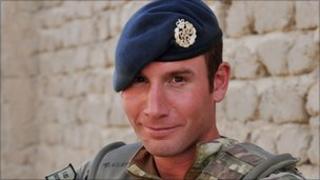 A bomb disposal expert from St Austell is coming to the end of a gruelling six month tour in Afghanistan.
Sergeant Miles Truscott, who is in the Royal Air Force, has been working as a High Threat Bomb Disposal Operator.
Working in a team of four, Mr Truscott, 34, has been rendering safe bombs and Improvised Explosive Devices (IEDs).
Since April the team has dealt with more than 40 devices in several parts of Helmand Province.
Sgt Truscott said: "When the Afghans find an explosive device we get called and we have to deal with them.
"We don't know what we're dealing with until we get on the ground. It's the point between being tasked to arriving on the job, that is probably the most nervy part.
"Once we arrive everyone gets into the swing of what we're supposed to be doing."
'Extreme heat'
The team has to walk down a cleared path to the site of the device which is designed to kill and main military personnel.
Sgt Truscott said: "At that point you're thinking about the training, what I am going to do? You're running through the possible outcomes.
"When you can see what you have in front of you things become a bit simpler, because you know you have to make the device safe and remove it from the ground."
The Cornishman usually has to lie on the ground to deal with devices like IEDs.
He said: "Your concentration is totally on what your actions are, and finding what we need to find to neutralise the devices.
"You're not thinking about anything else at all. I need the rest of the team to keep their eye on what else is going on, to keep me safe."
Afghanistan endures dry hot cloudless summers with temperatures in July reaching 49 degrees celsius.
Sgt Truscott said: "The heat has been a real problem. We arrived in the April so we felt the build-up to the extreme heat.
"When we're having to move on foot it does get quite demanding."
Sgt Truscott said he was looking forward to coming back to Cornwall to see his girlfriend, parents and to sample a pint of his favourite beer.