Cornwall Council spends £2.4m on primary school expansion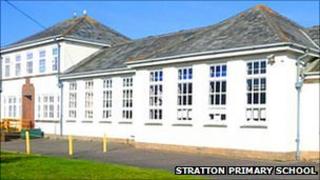 Cornwall Council is to spend £2.4m on a major expansion of a north Cornwall primary school.
Stratton Primary School, near Bude, is projected to take an extra 120 pupils in the coming years, increasing its size by more than a third.
The new intake of pupils this month was an extra 25 children, the equivalent of a whole new classroom.
Head teacher Phil Aldiss said "there seems to have been a population explosion around Bude".
Cornwall Council said: "The number of pupils entering reception year in primary schools in and around the Bude and Stratton area has been increasing in recent years and is now beginning to exceed the number of places available."
It said there was therefore "a need to create additional places".
Last year, at very short notice, Bude Infants School was forced to run an extra class and Mr Aldiss said with "this trend continuing something has to be done to provide places for the children".
Stratton Primary School currently accommodates about 250 pupils and Cornwall Council is set to approve plans to expand the school with four permanent new classrooms, an extra small hall and "various other rooms that have been analysed by the council the school is deficient in".
The council added: "Stratton Primary School occupies a large site and the land surrounding the school provides enough room for expansion without encroaching on the school's playing fields."