Fans to remember Lord of the Flies' William Golding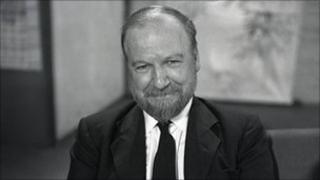 Fans of one of Cornwall's most famous literary sons are celebrating the centenary of his birth.
William Golding was born in Newquay, on the north Cornwall coast, on 19 September 1911.
He is best known for writing Lord of the Flies, a book that sold in its millions and brought Golding worldwide recognition.
Mr Golding wrote several books during his life time including a travel book about Egypt.
The centenary of the author's birth will be marked by a major international conference in Cornwall.
Mr Golding's daughter, Judy Carver, who recently published a memoir about her father entitled The Children of Lovers, will be among the guest speakers.
At the time of his death, William Golding left a journal of more than two million words, which included his daily thoughts over a 20-year period.
John Carey, whose book William Golding: The Man Who Wrote Lord of the Flies, is the first biography of the author, said: "It took me six months to read his journals. They recorded his very life day by day. There were also unfinished novels. His archive was simply enormous."
Even though his first poems were published in 1935, it was more than 20 years before his novels became world famous.
William Golding's most famous book, Lord of the Flies, had been rejected by every publisher he sent it to - until an editor at Faber pulled his manuscript off the rejection pile.
In 1983 he was awarded the Nobel Prize for Literature.
At the time the Nobel Foundation said: "...his novels which, with the perspicuity of realistic narrative art and the diversity and universality of myth, illuminate the human condition in the world of today".
In 1985, Golding and his wife moved to Tullimaar House at Perranarworthal, near Truro, Cornwall, where he died of heart failure, eight years later, on 19 June 1993.
The centenary celebrations will take place at the University of Exeter's Tremough Campus, Penryn, from 16 - 18 September.