Fuel duty discount 'marvellous' for Isles of Scilly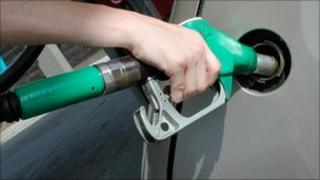 Plans to cut the price of fuel on the Isles of Scilly have been welcomed by local businesses and politicians.
The European Commission has approved a UK government scheme to discount fuel duty for remote island communities.
No date has yet been given, but when the scheme is implemented, it will mean a 5p per litre reduction in the cost of fuel.
Semi-retired Jim Johnson, who operates a taxi in St Mary's, described the decision as "absolutely marvellous".
"We've always paid more for fuel, which of course we expect to do, but we're paying £1.64 a litre just now, so the news is very nice - in fact it's absolutely marvellous," he told BBC News.
Mr Johnson, who used to be a taxi driver in London, moved to St Mary's 30 years ago and brought his black cab with him.
Although it was not his intention to run a business in St Mary's, he said he was "persuaded" by islanders and soon built up the business to include four mini buses.
"I'm semi-retired now, but I still run the one taxi so a 5p cut in the price of fuel will make a difference," he said.
"I'd read about it several months ago, but as I hadn't heard anything more I thought it had gone by the way, so this is welcome news indeed."
Businessman Richard Hand has also welcomed the decision by Brussels.
Mr Hand, who runs a general haulage company on St Mary's, said the money saved on fuel could now be spent elsewhere in the business.
"We're spending about £6,000 a year on fuel, so a cut of 5p a litre will make a big difference," he said.
"We've been waiting a long time and a saving like that is going to mean money we can spend elsewhere."
Andrew George, the Liberal Democrat MP whose St Ives constituency includes the Isles of Scilly, said the European Commission's decision was "important progress".
"The Commission's in principle approval takes us one step closer to fairer fuel prices for the islands, and hopefully for mainland Cornwall in time," he said.
"Treasury ministers must now finish the job by acting quickly and effectively to secure the agreement of other member states."
South West MEP Sir Graham Watson welcomed the news which he said should help businesses and households struggling to meet rising fuel costs in some of the most remote parts of the UK.
Cars 'vital'
"The recession has hit rural communities hardest," he said.
"With a lack of public transport available, cars are vital to residents for getting around and I am extremely pleased that the commission recognises this."
The cut in fuel will also benefit parts of Scotland, including the Inner and Outer Hebrides, the Northern Isles and islands in the Clyde.
Fuel on the affected islands is on average 10p more per litre than in other parts of the UK.
The proposals to reduce fuel duty for the islands will be discussed by EU finance ministers at their next meeting.