Crime fighting concerns over Forensic Service closure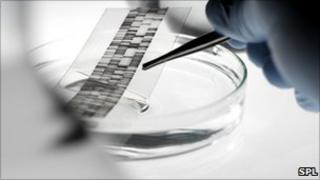 Crime fighting in Cornwall will not suffer after the government's decision to close the national Forensic Science Service (FSS), it has been claimed.
All forensic evidence from crimes in the county will be handled by private companies from next month.
The union Prospect said "the government was embarking on a risky venture" and had made a "rushed move to the market".
But Chief Superintendent Chris Boarland said he was "supremely confident" about the service.
Mr Boarland said local police had been employing private firms since 2008, working alongside the national Forensic Science Service.
Prospect's deputy general secretary, Mike Clancy said: "What the government are doing is putting all their faith in an untested market."
FSS 'costly'
He said that working alongside the FSS was "not the same as seeing this tested over a period of time".
"With the demise of the FSS, markets are going to change quite considerably."
He added: "Our concern is that people in Cornwall will still operate in a national market with national providers who will do that work that is most compelling in terms of making money."
Mr Boarland said: "We got a very good service from the Forensic Science Service but it was big, it was costly and clearly there was a political drive to move away from it."
Mr Boarland said the service given to the people of Devon and Cornwall was "absolutely fantastic" and said he was sure Cornwall would continue to receive an excellent service.