Student's 'unimaginable' experience as ShelterBox volunteer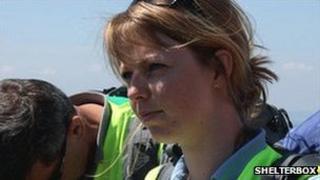 A Cornish student who worked for disaster relief charity ShelterBox in the drought-hit Horn of Africa has described her experiences as "like being on another planet".
Alice Jefferson, 22, from Carnon Downs, Truro, worked alongside the ShelterBox team for two weeks helping refugees as they moved into the Dadaab camp in Kenya.
The Helston-based charity specialises in emergency shelter for families affected by disasters.
Ms Jefferson described the scale of the disaster and the widespread need of the refugees as "quite unimaginable."
"It really hits you once you get back normal life in the UK," she added.
ShelterBox Response Team (SRT) volunteers come from all walks of life and have to undergo an intensive training course to qualify.
A spokesperson for the charity said: "Alice did an internship with ShelterBox and impressed us so much she was offered some work to fit in around her study.
"She later underwent the SRT training and was the youngest SRT to qualify."
The charity has deployed eight teams to the region and sent nearly 9,000 disaster relief kits to the affected areas.
They claim up to 1,000 people a day are moving into the refugee camp.
Ms Jefferson said: "It's just something that I've never experienced before and it's good that we're doing some positive work.
"I was there with a very experienced team leader who mentored me through it all," she added.
'Positive work'
"It's just a huge, huge problem. The crisis itself is over a hugely widespread area, where we were responding in Kenya, Ethiopia and to the problems in Somalia, which are driving everyone out of the country."
About 12.5 million people across the Horn of Africa have been affected by the drought.
In August, the UN declared a famine in five areas of southern Somalia.
"There's a huge presence on the ground and it's really clear how much good work ShelterBox has been doing out there," she said.
"In Kenya in the Dadaab refugee camp, we have one big site out there where there are about 6,000 tents.
"On one of the first days we went to one of the areas where people were being relocated. People were making their way from Somalia across the border to a very temporary camp."
Ms Jefferson said it was there that she witnessed "real suffering".
"The refugees were just living hand to mouth," she said.
"The people were given proper ShelterBox tents and seeing them able to experience that safety, that security, that shelter was one of the main moments that sticks out for me."
She said the experience had changed her and "really opened her eyes and put things in perspective".