Truro animal laboratory cutting disease test services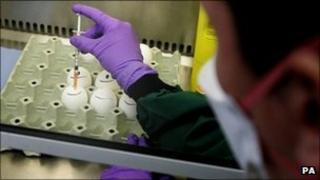 Services provided by a Defra laboratory in Cornwall are to be cut as part of government savings measures.
The Animal Health and Veterinary Laboratories Agency site near Truro carries out tests for diseases such as foot-and-mouth and bovine tuberculosis.
Such work was to be redistributed among other laboratories around the country by March 2013, the agency said.
Critics said the move could mean it taking longer to identify diseases and deal with them.
Up to 90 jobs at eight sites around the country are expected to be affected.
'Result delays'
The move at the Polwhele site was part of plans to make £2.4m of savings a year by March 2013, the agency said.
The nearest site to Cornwall would be the agency's laboratory at Starcross, near Exeter in Devon.
But critics said the move would result in a loss of local knowledge and delays in test results, which could be dangerous if there was any disease outbreak.
Mark Oliver, who runs a dairy farm near Bodmin and sits on the NFU Dairy Board, said Cornish farmers and vets would be "devastated to lose such facilities."
He said: "It forms integral part of our health strategy.
"They know the region and they know our problems."
As well as the loss of up to five jobs at Polwhele, the Prospect union - whose members include scientists and specialists in the agency - said the move was "a cut too far".
National secretary Geraldine O'Connell said: "We believe this is a cut to a front-line service, a valuable service that will be a loss to the community."
She said the move would mean it taking longer for sample results to be returned, possibly longer than the current standard 24 hours.
She said: "Staffing or resources at remaining labs will not be changed, so they'll have their own workloads still to deal with as well."
The agency said that it was confident that necessary services could be maintained.
Other veterinary work at Polwhele, including animal post-mortem tests, was to continue, it added.
Defra said the cuts were proposed by the agency and it was responsible for managing its own budget.