Cornish woman Tegen Roberts in £250,000 Deal win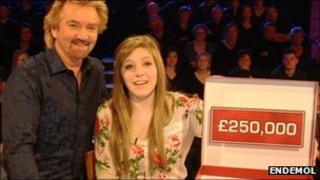 A 21-year-old Cornish woman battling cancer has become one of only four top prize winners on Channel 4's Deal Or No Deal, winning £250,000.
Tegen Roberts, from Liskeard, took part in the show following a course of treatment for Hodgkin's lymphoma.
Ms Roberts wore a wig on the show as her hair had not grown back following the treatment.
She was diagnosed with the disease in 2011 and was given the all-clear before the recording of the show.
It later returned, but she said she was now in remission and aimed to donate some winnings to charities that supported her.
Ms Roberts said she waited until the show was broadcast before spending her winnings.
"Being on Deal or No Deal was an amazing experience and I met a fantastic group of people," she said.
"I can hardly remember anything from my game as it was all such a blur.
"I haven't spent much money yet as I wanted to wait until people found out what I'd won. But I have bought myself a car."