St Dennis waste incinerator road work to start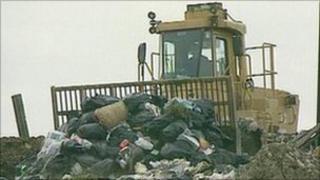 Work is due to start on the construction of an access road to Cornwall's new energy-from-waste plant.
The scheme, at St Dennis, was granted planning permission by the government earlier this year.
Cornwall Council said work on the road and clearance of the site would run from Monday until the end of October.
A legal challenge by campaigners opposed to the incinerator is to be heard at the High Court in London next month.
The energy-from-waste plant was granted planning permission in June after Local Government Secretary Eric Pickles allowed an appeal by waste firm Sita.
The former Cornwall County Council had refused planning permission.
Cornwall Council, which was created as a unitary authority in April 2009, had urged Mr Pickles to back the plans.
Dave Owens, the Conservative-Independent-run council's head of waste management, said: "We will be making every effort to minimise disruption to local residents during these works."
Protesters, including the St Dennis Anti Incinerator Group (Stig), are concerned an incinerator could affect people's health and damage the environment.