Cornwall's ShelterBoxes help 5,000 flood families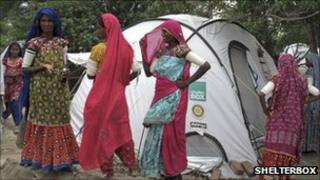 More than 5,000 families will benefit from aid boxes sent to victims of the Pakistan floods, a Cornish charity has said.
ShelterBox, based in Helston, has sent 2,500 boxes, equipped with items including a tent, water purification devices, and blankets to the country.
Floods hit Pakistan at the beginning of August.
The number of people affected is at least 5.4m with 1.8 million displaced, the charity said.
ShelterBox field operations specialist, Mark Pearson, said: "Hundreds of thousands of people have no shelter, food or water.
"The Sindh province is one of the poorest areas of Pakistan so the people here are even more vulnerable, the only solution many of them have to shelter is with sticks and tarpaulins," he added.