South West sewage alert system trial ends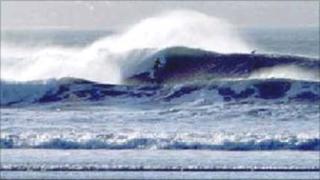 A sewage alert system for beachgoers which flagged up sewage spills across Cornwall and Devon has come to an end.
The text and email alert scheme, which started in June, was a trial collaboration between Surfers Against Sewage (SAS) and water companies.
The scheme for beachgoers flagged up more than 40 sewage spills across Devon and Cornwall.
South West Water (SWW) said it was pleased with the trial but had not decided whether to continue it.
The scheme involved SWW informing SAS when sewage is discharged from combined storm overflows near beaches.
Cornwall-based SAS then sent free text or email updates to subscribers to let them know about the sewage.
Richard Gilpin, the head of waste water for SWW, said: "We're very pleased with how it's gone. We've had over 17,000 hits on our webpage. We're getting lots of positive feedback.
"At this stage I can't commit to saying yes because we have to reflect and review at the end of the week when the trial ends."