Cornish Church to use modern technology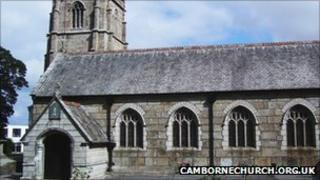 A project to replace expensive spotlights with cheaper LED bulbs could help a Cornish church dramatically reduce its electricity bill.
Camborne Parish Church wants to invest £10,000 in a new lighting system to save money in the long term.
After reinstating the outside lighting with gas lamp replicas, Rector Mike Firbank is turning his attention to the inside of the building.
The LED lights will replace the old and expensive spotlights.
The church has recently installed solar panels on the roof of the Cecil Norman building in the church graveyard.
It now provides green electricity for the many groups who use the building daily.
Rector Firbank said: "The LED lights give a bright clear light and reduces the electricity cost to about 10% of what we're paying.
"We have some test ones in already. When you sit in the aisle where the LED lights are with a book you get a clear light. But when you go and sit under the normal bulb, some of the pages are quite shaded."
The church had hoped it had funding in place last year, but because of the economic climate, the parishioners are now having to source the funding from elsewhere.
Once the church has its LED lights in place, Rector Firbank has more plans.
He said: "What we haven't done yet is gone over to filming services and putting them online, but that will be next."