Fryderyk Chopin returns to Falmouth after losing masts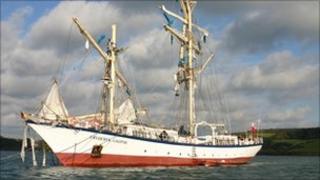 A tall ship which lost its masts off Cornwall in a storm is returning to Falmouth this week, almost a year since the incident.
The 182ft (56m) Fryderyk Chopin suffered a double dismasting 100 miles (160km) off the Isles of Scilly in October 2010.
On board was a crew of 47 teenage cadet sailors en-route to the Caribbean.
Its visit is part of the ongoing programme of visits to Falmouth harbour by tall ships from around the world.
The first mast, which was 120ft (37m) high, was lost in southerly force nine gales. The second mast was lost several hours later.
Towed into Falmouth following the incident in 2010, the Polish crew found themselves at the centre of a tangle of red-tape while officials struggled to agree the ship's repair, causing the vessel to be stuck in Cornwall for months with a skeleton crew.
During the ship's stay, the captain and crew were welcomed by members of Falmouth Tall Ships Association, who even donated a Christmas tree for the ship.
The Fryderyk Chopin is returning to Cornwall with the new rig, which was installed by A&P Falmouth.
The ship is owned by the European School of Law and Administration - a private university based in Poland.
The 187ft (57m) Sørlandet, the oldest operating full-rigged ship in the world, is also visiting Falmouth, for the first time since 1966.