Council insists river is kept lowered for safety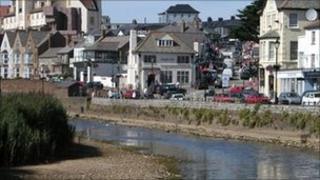 An activity centre in north Cornwall is struggling to provide its normal range of activities after Cornwall Council lowered the river.
Adventure International claims the River Neet in Bude no longer has enough water to provide canoeing and kayaking.
The council is responsible for emptying the River Neet in Bude and has said it has to stay lowered for safety reasons.
But Keith Marshall from Adventure International said it has been "disastrous" for the business.
Each year the company teaches 7,000 children on adventure holidays.
When the weir is raised, the water backs up behind and the River Neet becomes several feet deep, which allows the centre to carry out their water-based activities. When the weir is lowered, the river level can fall to just a few inches.
Mr Marshall said that in order to provide full range of activities, the river needed to be kept raised and claimed the council lowered it "all because of a change in the interpretation of harbour safety rules".
The weir was built in 1998 and is owned by the Environment Agency, but the council is responsible for the raising and lowering.
A statement from the Environment Agency said that since construction of the weir it had worked with the local community through the elected bodies of North Cornwall District Council and Cornwall Council to find a balance between all the interest groups in the town.
This summer, following a review of the Port Marine Safety Code for Bude, Cornwall Council asked the Environment Agency not to raise the weir.
The council claims it has a "statutory duty to comply with the Port Marine Safety Code for Bude".