Director of An Island Parish praised in Scilly tributes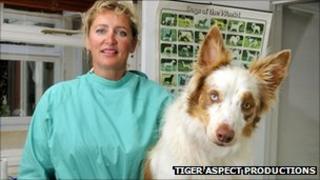 People living on the Isles of Scilly have paid tribute to the director that brought their islands to life through a television series.
Nigel Farrell, 58, director of An Island Parish, died at the weekend after battling pancreatic cancer.
The BBC 2 show brought in audiences of more than 2 million, charting the lives of people living in England's remotest parish.
The first series aired in January 2007 and ran until the fourth series in January 2009.
One of the people he made into a star was the Island vet, Heike Dorn.
Ms Dorn said: "I can't believe it, I still can't believe it.
"We thought that Nigel would pull through after his operation, but he didn't."
'Endlessly fascinated'
She added: "He was a very, very nice man, very laid back and also very enthusiastic about his job."
Ms Dorn described the show as a big success and "lots of tourists came afterwards, particularly to see the people from the series".
She said Mr Farrell was a "very funny man" and when she asked him how she should act during filming, he would say, 'Heike, just be you, just tell everything like it is'."
During an interview in January 2008, Mr Farrell said of Ms Dorn, "Heike the vet was an absolute gem of a character".
Mr Farrell said: "The islands are really the stars and people from the mainland are just endlessly fascinated with this extroadinary way life.
"I think it's life affirming, I think it makes you feel better about yourself and about the world around you and there aren't many shows on TV that can manage to do that.
"At the end of half an hour of Island Parish, you think 'OK, maybe there is some reason to be optimistic and positive about life', and TV generally does the opposite," he added.
'Tremendous benefit'
Ms Dorn said he was dedicated to programme making and did not think he had "any other hobbies other than making documentaries".
Amanda Martin, curator of the Isles of Scilly Museum, said the programme series was a "tremendous benefit to Island tourism".
"I know from people that I met in the museum that they had been introduced to Scilly through the programme," she added.
Ms Martin also said the chronicling of Island life through the series was a "useful addition" to a pictorial history of their way of life.
"In Scilly we have been very fortunate through the ages to have had photography and quite a lot of filming of the Islands."
Mr Farrell also directed "A Seaside Parish" in Boscastle which captured the devastating floods in 2004.
Some of the first footage that was aired around the world was filmed by the programme's cameramen.