Councillor's hate mail over tortoise garden closure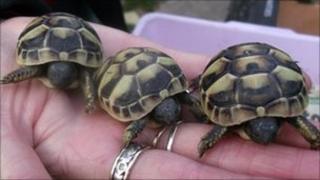 A senior Cornwall councillor has received more than 1,000 abusive emails after the closure of a tortoise sanctuary in mid Cornwall.
Sanctuary owner Joy Bloor had been given 28 days by Cornwall Council to obtain a zoo licence for the garden in Sticker, St Austell.
But she was unable to pay the licence costs and decided to close.
Community safety and protection councillor, Lance Kennedy, said he had received "one thousand abusive emails".
Mr Kennedy said that since the row over the tortoise sanctuary hit the headlines his department's phone system had effectively "shut down" with the volume of calls.
"A lot of the emails you wouldn't even want to read, and the calls are obscene, some of them," he said.
Following a complaint to Cornwall Council in 2009 by one animal rights organisation, the council took the decision to reclassify the sanctuary as a zoo and insisted it should be licensed under the Zoo Licensing Act 1981.
'Ridiculous legislation'
The council said it had spoken to experts who considered tortoises to be "wild animals, in that they are not normally domesticated in this country" and therefore needed to be covered by the licence.
Mr Kennedy said: "There is absolutely no doubt, we've been given unequivocal information that they are regarded as wild animals.
"The problem is I and my staff are not in the position to arbitrarily pick which bits of law we like," he added.
Ms Bloor said she was unable to pay the zoo licence costs which amount to £275 for the first four years in addition to the fees for government-appointed site inspectors, along with subsequent formal inspections.
Mr Kennedy said he asked his staff to apply the law fairly as with "all the other sanctuaries across Cornwall that have gone through the same process, who are registered, who comply with all the regulations, you have to be consistent".
He said that if Ms Bloor applied for a licence he was hopeful the issue could be resolved "with some common sense".
Mr Kennedy said it was a "ridiculous piece of legislation" which he admitted "needs changing".