More help for first-time buyers in Cornwall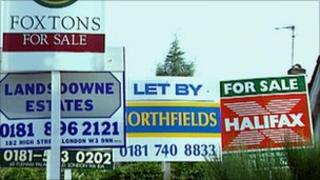 A pioneering attempt to help first-time homes buyers is being drawn up by Cornwall Council.
The authority is introducing an equity loan scheme at no cost to council tax payers.
It says the scheme would aim to encourage local builders to develop in rural areas.
Ian Byworth, from the housing charity, Shelter, supports the scheme but said it did not go far enough and amounted to putting "a plaster on a broken leg".
He said: "There's a much greater need for affordable housing for all sorts of people not just first-time buyers.
"This is a good effort but it's really just touching the top of a huge issue."
The council said that to obtain planning permission, builders working on housing developments would have to sell a number of homes at low cost.
The authority would treat that discount on the full market price, which could be up to 40%, as an equity loan.
Would-be buyers would have to take out a mortgage to cover the rest of the cost.
Cornwall Council has also announced it is setting up a new housing company.
It will be responsible for the authority's attempts to reduce homelessness, manage more than 10,000 council houses, as well as running gypsy and traveller sites.
The council is looking for six people with housing experience to help start the company.