End of the line for emergency towing vessel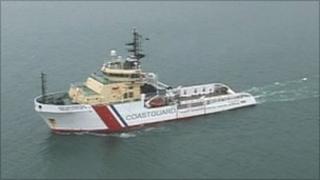 The Anglian Princess, the Coastguard's Emergency towing vessel often seen off the Cornish coast, is to end its role later.
The ship is a casualty of the government's review into the Coastguard budget.
Ministers have decided commercial salvage firms can offer a paid-for service.
All four tugs around the British Isles which are intended to respond to emergencies, will no longer be used.
Mark Nicholson, managing director of JP Knight Lowestoft Ltd, which operates the tugs, said: "I think there's no doubt that she has fulfilled her requirements as an emergency towing vessel.
"At no time has the vessel been unable to respond to an incident."
In a statement the Shipping Minister Mike Penning said: "I understand the concern felt by some communities about our decision to withdraw these Emergency Towing Vessels (ETVs), but if we are to tackle the deficit then difficult decisions must be made.
"Should a ship get into difficulty, we are confident the commercial salvage sector are prepared to offer sufficient assistance."