Whitsand Bay bends diver taken to hyperbaric chamber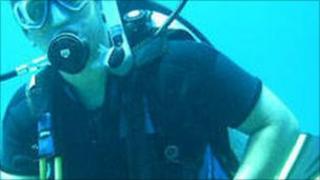 A diver has been airlifted to a specialist oxygen chamber centre after getting into trouble off the Cornish coast.
Brixham Coastguard said the alarm was raised at about 12:00 BST when the man became unwell after ascending too quickly from his dive.
The 40-year-old had been on an organised diving trip off Whitsand Bay.
An RNAS Culdrose helicopter flew him to the Diving Diseases Research Centre (DDRC) in Plymouth.
The DDRC is a medical research and training charity which uses a hyperbaric oxygen chamber to treat divers suffering from the bends (decompression sickness).
It is caused by dissolved gases forming bubbles inside the body and can, on occasion, be fatal.
Symptoms of the bends include joint pain in the arms and legs, rashes and itching of the skin.