Family mementos stolen from Newquay cemetery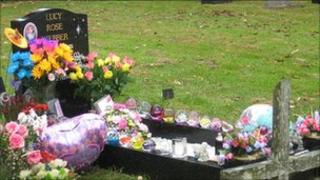 A family from Newquay has been left devastated after mementos were stolen from their daughter's grave.
Fifteen sentimental gifts were taken from the grave of Lucy Webber at Newquay's Fairpark Cemetery.
Lucy's mother Julie discovered the thefts after visiting the grave still decorated with balloons to commemorate her daughter's 13th birthday.
Insp Ian Drummond-Smith from Newquay Police said it was an "utterly heartless crime".
Lucy died in a car accident on Goss Moor ten years ago.
Ms Webber said the items were "irreplaceable" and "part of the memories of having her and not having her".
"They weren't things of huge financial worth, we don't put things up there that are financially that expensive, but it's stuff that meant something to her or meant something to us, that were colours that she liked, or fairies and princesses that she always wanted to be," she added.
Ms Webber said: "Items were also stolen in 2007 but after a local newspaper report some were returned to a nearby grave and then to us."
Mr Drummond-Smith said it was a "really appalling crime" and he hoped that a public appeal may help in returning the items stolen.
"If we do find them, they will have the full weight of the law upon them," he added.