'Dramatic' rise in cirl buntings in Cornwall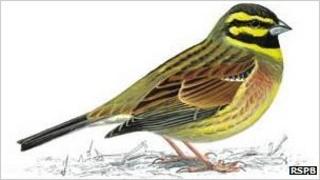 Wildlife experts have said they are delighted at a "dramatic" rise in the number of cirl buntings in Cornwall.
The small finch-like bird, a close cousin of the yellowhammer, used to be found on farmland across the county, but disappeared in the early 90s.
Thanks to a reintroduction project the population is growing, with 28 breeding pairs in the county compared to 16 last year.
There were only 118 pairs found throughout the UK in 1989.
'Complex task'
The number of chicks produced by the breeding birds in Cornwall this year has increased to 69 compared to 39 in 2010.
RSPB project officer Nick Tomalin said: "We always knew that the local habitat was good, but the farming community has been very supportive of the project, and many farmers have managed parts of their land to benefit cirl buntings and other farmland birds."
Ian Carter, Natural England's ornithologist said: "Reintroducing a small bird like the cirl bunting is a huge and complex task involving supportive landowners, experts who have hand-reared the birds and scientists who monitor their progress.
"We're encouraged that the birds we've released have reared significant numbers of young, many of which we hope will reach adulthood and then go on to breed."