Couple talk about mixed-race marriage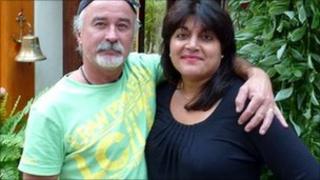 A couple living in mid-Cornwall have said opposition to mixed-race marriages has declined since their wedding.
Nicky and Louis Lewis, from Lanivet near Bodmin, wedded secretly in Birmingham 26 years ago.
Mrs Lewis had to run away and leave home as her parents, originally from India, were against the couple's relationship.
Mrs Lewis said that "back in the 1980s, mixed relationships weren't tolerated in our culture".
She said it was expected of her to have an arranged marriage.
"It was going to be arranged soon, they were looking at suitors.
"It was a hard day for me to make that emotional decision, but I have been married for 26 years now and it's all been good," she added.
'Emotional drama'
Mrs Lewis said that people are a "lot more tolerant of mixed race marriages now with the help of TV programmes and the internet" which have all helped to "educate people".
Mr Lewis said his father's attitude was, "as long as you are happy and as long as you think you know what you are doing".
His mother was a "little bit different", although she "wasn't in any way restrictive of what me and Nicky were doing".
Mr Lewis said although attitudes had changed for the better, "it's more flexible in the city than in the country".
He said: "Country communities, wherever that is in the UK, it's a set situation and then any major changes to that, like a mixed race couple coming in, could stir up the sediment."
Mrs Lewis said that she would allow her three sons to be with whoever they choose as long as they were "happy and healthy".
"After having gone through that emotional drama, I wouldn't want my children to have the unhappiness."
Mixed Britannia, a series looking at mixed-race marriages, starts on BBC2 at 21:00 BST on Thursday.