Cornwall anglers fear loss of Siblyback fishing lake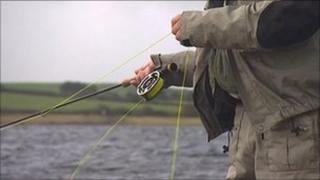 Anglers in Cornwall have said they could be about to lose one of their best trout fishing venues.
The South West Lakes Trust said it may have to downgrade trout fishing at Siblyback Lake on Bodmin Moor to allow for other activities.
It said anglers would be offered upgraded facilities at other lakes such as Stithians and Colliford.
But anglers in Cornwall said it could mean serious anglers would need to travel out of the county.
Fly fishermen Mike Parkyn from St Columb said: "We're going to lose the premier status of the fishery.
"This is the only premier fishery in Cornwall.
"It is a little gem and we do need to keep it."
South West Lakes Trust said there was increasing demand for watersports, such as canoeing and windsurfing.
It is seeking feedback from anglers before making a decision.
Spokesman Andy Parsons said: "One of our biggest challenges is to make sure we keep different interest groups happy.
"We do try and make sure that everyone who visits the lakes around the South West has an enjoyable visit."