St Dennis incinerator campaigners ready for court case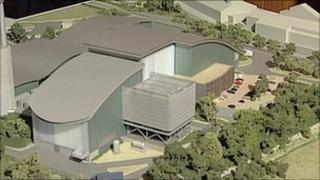 Campaigners opposed to an energy-to-waste incinerator in Cornwall are taking their fight to the High Court.
The £117m scheme at St Dennis was initially refused by planners but that decision was overturned by the government earlier this year.
Opponents will say it is too big, poorly located and could pose a risk to health, when they take their case to the High Court in London later.
The government said it was a legal matter and could not comment.
Villagers in St Dennis have been raising funds to pay for their legal challenge.
Ken Rickard, chairman of Cornwall Waste Forum, said at a fund-raising event: "We are a small community and to make such a challenge has been a major undertaking, mostly because of the financial implications.
"This is a case of David fighting Goliath, and this might be the last stand but it has brought our community together."
Cornwall Council declined to comment.
Sita UK, which won the contract to build the plant, said it would generate enough electricity to supply 21,000 homes by burning 240,000 tons of non-recyclable household waste a year.