Eden Project marathon attracts hundreds of runners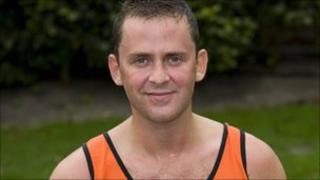 More than 1,500 people have taken part in a marathon and half-marathon in Cornwall.
The events, which were raising money for charity, took place in and around the Eden Project in St Austell.
About 450 of the runners attempted the full 26-mile race around mid-Cornwall's China Clay Country.
BBC Radio 1 DJ Scott Mills, who was fundraising for the Multiple Sclerosis Society UK, was among the 1,200 runners tackling the shorter 13-mile event.
Mr Mills said: "I have finished it now. It was tough. I didn't realise there were going to be so many hills.
'Great course'
"I would definitely do it again. It's one of my favourite parts of the UK.
"I'm looking at ten grand for multiple sclerosis. It's not a very well known charity.
"My Mum has MS, so it's something that's close to my heart. Ten grand for a run, that ain't bad."
Pete Roper of Poole Athletics Club won the Eden Project full marathon on Sunday and broke the course record he set in 2009, with a time of two hours 43 minutes and 12 seconds.
The fastest woman in the marathon was Karmen Pardoe, 42, from Middlesex, with a time of three hours 16 minutes and 14 seconds.
The winning time of one hour and 18 minutes for the half marathon was set by Andy Moreton, from Elephant and Castle in London.
He said: "I really enjoyed it. I will most definitely be coming back. It's a great course."
Tracey Smith, Eden's Commercial Manager and the organiser of the marathon and half-marathon, said: "With two new course records and the biggest field we've ever seen, this is the best Eden marathon and half-marathon yet."
Olympic athlete Jemma Simpson, from Cornwall, fired the starting pistol for the races, which were held as part of the Eden Project's 10th birthday celebrations.