Residents fear further flooding in mid Cornwall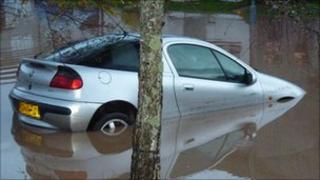 Nearly a year after floods in mid-Cornwall, some victims said they were still living in fear when it rained.
Key prevention work for some of the worst affected properties is yet to start.
Local residents claim bureaucracy surrounding government aid has held up the work that needs to be carried out after the floods in November 2010.
Cornwall Council said it was working as fast as it could to carry out the improvements.
Properties in St Blazey, Lostwithiel, Pentewan and Mevagissey were all badly affected in the flooding.
While the Eden Project had to close for a week.
Frustrating times
The Environment Agency awarded nearly £600,000 in May, with 143 houses able to apply, via the council, for things like flood-proof doors and vent flaps.
Chris Danning, whose house in St Blazey was devastated in the floods of 17 November, said: "It's been frustrating, but if they would make the process a bit quicker and easier, people like us can get back in the house."
Government money has also been made available for 150 other properties in the area that did not qualify for funding the first time around.
Charles Richards, from the Par and St Blazey community flood group, said: "It's going to be about another month, at least, before the measures are put in place."
David Owens, from Cornwall Council said the authority was trying to do as much as it could "within the budgets we have got available".
He said: "We've done some early intervention work in the area.
"The Environment Agency has been undertaking some work. It's bringing all those pieces of work together to improve the levels of protection."
Chris Danning's family is hoping to be back in their home by Christmas, but Mr Danning said he thought it was very unlikely, as he feared more flooding.
He said: "This happens every year, three times a year sometimes, so you know it will happen again. It's not if, it's just when."