Cornish hospital trust 'working to cut 27% food waste'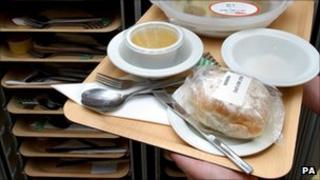 More than a quarter of meals served by a hospital trust in Cornwall are not being eaten.
Analysis carried out by SSentif revealed 27% of food provided by Cornwall Partnership NHS Foundation Trust was wasted.
Figures provided by the trust for the 2009/2010 period also showed 15% of meals were returned "untouched".
In a statement, the trust said it was working hard with staff and hotel services to reduce food waste.
The trust provides mental health and learning disability services to people in Cornwall and the Isles of Scilly.
It has an annual budget of £75m and employs nearly 1,400 people - making it one of the largest local employers.
For the 2009/2010 period, the trust told BBC News it spent £6.14 per patient, per day on food.
Data provided by 200 NHS hospital and mental health trusts in England showed the amount spent on food ranged from £2.93 to £19 per patient, per day.
The statement from the Cornish trust said: "Patients have told us that on the whole we provide good quality food.
"We are working hard to improve the way meals are ordered so they more accurately reflect the actual number of patients on the wards and take into account patients who are participating in activities off the hospital site or who go out during the day.
"We will be contacting some of the hospitals with the lowest levels of waste to determine what additional things we can do to reduce this figure while continuing to provide high quality, nutritious food for our patients."
'Worrying implications'
The SSentif analysis looked at Estate Returns Information Collection (Eric) data - which all trusts have to provide on a particular day - on costs per patient per day, the percentage of meals requested and the percentage of meals returned untouched.
Judy Aldred, managing director of SSentif, said although some waste was "inevitable" in a catering environment, untouched meals in a healthcare situation had "more worrying implications".
Health Minister Simon Burns said an essential part of hospital care was ensuring patients were offered "good quality nutritious food" and given help, where necessary, to eat it.
Across England about nine million hospital meals - almost 8% - are returned uneaten every year.