St Dennis incinerator decision considered by High Court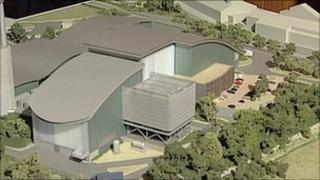 Campaigners trying to block the construction of an incinerator in Cornwall will have to wait to find out if they have been successful.
The scheme at St Dennis was initially refused by planners, but the government overturned the decision.
Opponents claim the plant is too big, poorly located and could pose a health risk, and asked the High Court to rule the government's decision unlawful.
Mr Justice Collins said he would give his decision on Thursday.
Sita UK, which has the £117m contract to build the energy-to-waste incinerator, said it would generate enough electricity to supply 21,000 homes by burning 240,000 tons of non-recyclable household waste a year.
Conservation impact
David Wolfe, appearing for the anti-incinerator campaigners, had argued that the public inquiry inspector and Community Secretary Eric Pickles had "ducked" a key issue when they gave the project the go-ahead.
The site was next to two European Union (EU) "special areas of conservation" at Breney Common and Goss and Tregoss Moors, and there was concern about the potential impact of the incinerator on those areas.
Mr Wolfe said the EU Habitats Directive obliged the relevant authorities to consider the impact and possibly order an "appropriate assessment" before granting permission.
He argued the objectors had "a legitimate expectation" that the Communities Secretary would act as the "competent authority" to decide whether the habitats assessment was necessary.
The minister, however, left the decision to the Environment Agency (EA), which decided an assessment was not appropriate.
By the time the objectors discovered the EA decision, time had run out for them to seek to challenge it directly at the High Court, said Mr Wolfe.
He argued this was unfair and breached the objector's legitimate expectation that the minister would make the final decision.
The permission for the incinerator was therefore legally flawed and must be quashed, he said.
'Waste management problem'
Hereward Phillpot, appearing for the Communities Secretary, argued there had been no legal error or breach of the habitat regulations.
He said the minister had been legally entitled to leave the habitats issue entirely to the EA as it had the necessary expertise and did not need supervision or its work duplicated.
Mark Westmoreland Smith, representing Sita UK, said the benefits of providing the incinerator needed to be taken into account.
Cornwall had a serious waste management problem and, if the project did not go ahead, the total cost to council taxpayers from landfill tax and other costs could rise to £200m or more, he warned.