Rustlers steal 360 sheep from two Cornwall farms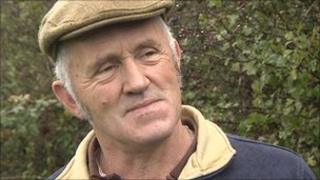 More than 360 sheep have been stolen from two farms in north and south east Cornwall.
Devon and Cornwall Police said an organised gang of rustlers took 200 sheep, worth £28,000, from a farm near Bodmin.
More than 160 sheep were also taken from a farm in Tideford, near Saltash, about half the breeding stock.
The farmers fear the sheep will end up slaughtered at illegal abattoirs, and then served up at restaurants.
'It's the audacity'
Keith Jasper, from Luccombe Farm, near Tideford, said the theft was "soul-destroying".
He said: "You work to build up a flock and a good 50% have gone.
"You have to start again. There's no words to explain it really."
Mr Jasper believed it was a professional gang that carried out the rustling and he feared for the sheep's welfare.
He said: "If they are not in the right vehicles, they would suffocate.
"It's going to knock our income down by 50%.
"It does make you stronger. You want to beat them, not give up."
Police said they surprised by the scale of the thefts, but it was likely the thieves had their own dogs to round up the sheep.
Supt Julie Whitmarch, Devon and Cornwall Police, said: "It's the audacity.
"We don't whether it happened at day or night, but to take that number of sheep is huge."
Tim Price, from the insurance firm NFU Mutual, said: "We are seeing claims of around £5m for livestock rustling around the UK for the last year.
"The South West was the worst area for the first quarter of 2011. Most of the livestock stolen are sheep."