Father's kidney donation saves daughter's life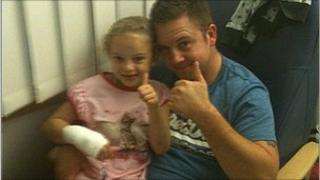 A father from Cornwall has undergone surgery that has saved his six-year-old daughter's life.
Nathan Thomas, 28, from Redruth, has donated one of his kidneys to his daughter, Oceanna, after she was born with only one.
The surgery was a success and Oceanna is recovering in Bristol's Southmead Hospital, where the transplant took place.
Mr Thomas said the operation was a "fantastic result".
Oceanna had to undergo surgery and dialysis within the first week of her life.
After testing Mr Thomas and Oceanna's mother Tammy Sullivan, it was found that Mr Thomas was almost a perfect donor match.
Mr Thomas said: "It's taken three years of waiting, thinking about what's going to happen, but we're here and it's done.
"I think she's stronger than me, she's absolutely brilliant."
"Giving something back"
During her six years, Oceanna has been reliant on medication and has to make frequent visits to hospital.
Mr Thomas said: "Hopefully, as she gets older, she'll understand what I've done.
"But at the end of the day, it goes without saying, I've done what I needed to do and hopefully she will be better from this.
"I'm her father and I would do anything for her."
Mr Thomas is recovering nearby at a house provided by the charity Bristol Area Kidney Patients Association, while his daughter remains in hospital. He said he felt a "long way away" from her, but said he was able to visit her more as he gained strength.
He said he felt he had the support from the whole of Cornwall, as well as his beloved Redruth Rugby Club.
Mr Thomas had to stop playing rugby to undergo surgery.
He said he was now going to turn his attention to "raising awareness to everybody around the country to think about the fact that you can save somebody's life".
Mr Thomas said he also "tries to give blood as much as he can" as his daughter received a transfusion when she was born.
"It's just my way of giving something back," he said.