Business plan for Camelford leisure centre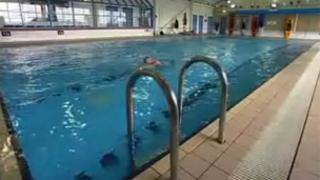 Cornwall Council has given the people of Camelford 10 weeks to come up with a business plan to save the town's leisure centre.
The council's cabinet decided on Wednesday that unless a plan was ready by the end of the year, the centre will not be included in a new Leisure Trust.
It will be taking responsibility for Cornwall's leisure centres from April.
The Camelford centre was given a £50,000 temporary lifeline in December 2010.
Joan Symons, responsible for leisure issues, said: "They have got the opportunity to form a committee, to form their own trust which will then give them the opportunity to get funding we can't even get as a council."
The centre costs about £117,000 a year to run and employs nine workers full-time and six part-time staff.
If it shuts, users will have to travel to Wadebridge, Launceston, Bodmin or Bude.
Camelford's mayor, Robert Rotchell said: "Camelford is one of the fastest growing towns in Cornwall. More people are moving here with new houses being built all the time.
"We have no doubt that the usage in the centre in the future will be significantly greater than it is now."
Mr Rotchell said the business plan was "virtually ready to go" but the deadline was the end of December.