Norway fatal microlight crash 'caused by pilot error'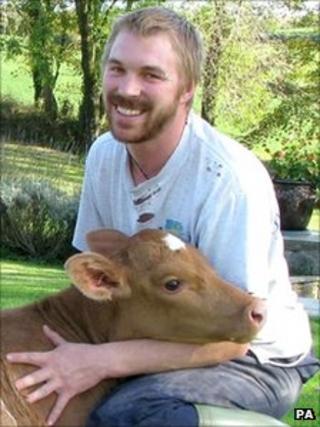 Pilot error caused a microlight crash in Norway which killed a Cornish dairy farmer and the aircraft's pilot, an inquest heard.
Robert Maiklem, 33, of Bocaddon Farm, Lantreath, and 44-year-old pilot Kjetil Vasstveit died when the microlight crashed into a hillside in July 2010.
Mr Maiklem went up in the aircraft for an aerial view of an energy-from-waste plant he was considering for his farm.
Cornwall coroner Dr Emma Carlyon recorded a verdict of accidental death.
The inquest into Mr Maiklem's death heard his father, Nicholas, had already been up in the light aircraft and was watching from the landing site with his other son Julian when the crash happened and the aircraft burst into flames.
'Abnormal' noises
The ferocity of the fire meant Mr Maiklem's family and other witnesses were unable to attempt a rescue, but a post-mortem examination showed Mr Maiklem and Mr Vasstveit would have died on impact, before the petrol tanks ignited.
The inquest in Truro was told an investigation by Norwegian police and air accident investigators blamed pilot error for the crash.
Witnesses told how they heard the microlight making "abnormal" noises before it crashed, but no mechanical default was found.
A report by Norway's microlight accident committee said wind conditions in the valley may have "fooled" Mr Vasstveit into thinking he was going faster than he actually was.
A statement read to the inquest said: "It is reasonable to assume that the wind conditions were a contributory factor.
"Given the information and investigations carried out we are satisfied the cause of the accident was a turn into a tail wind at low altitude with a substantial stalling flick and turn into the slope."
New guidance
The inquest heard that Mr Vasstveit had flown microlights for more than 10 years, with 360 recorded flying hours.
Days after the fatal accident in Tomb, south of Oslo, the inquest was told another Rans S-6 aircraft crashed in Norway in almost identical circumstances.
The microlight accident committee has since issued new guidance relating to training for pilots in recovering from low-altitude, low-speed stalls.
Speaking after the hearing Mr Maiklem said his son had been on the brink of starting a new chapter in his life, with a dairy business and plans to marry.
"It is just so sad that it was all nipped in the bud," he said.