Mary Fox firework campaign rolled out across Cornwall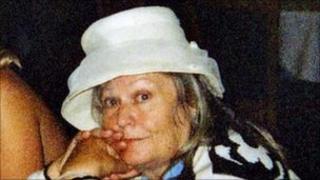 A firework safety campaign set up after a woman was killed in her Cornish home has been rolled out across the county.
Mary Fox died on Bonfire Night, 2009, after a firework was put through the letterbox of her Bodmin home. Three youths were found guilty and detained.
About 70 retailers across Cornwall have agreed a campaign to sell fireworks to only over 18s and to advise customers on using them safely, organisers said.
The campaign, Operation Firecracker, started in Bodmin in 2010.
Retailers have been given posters for their premises and customer advice stickers for the fireworks they sale.
Packs for schools
Ch Supt Chris Boarland said: "If we can stop the illegal sale and use of fireworks then we can ensure that our communities enjoy a safe and happy bonfire night."
The campaign is a joint project by Devon and Cornwall Police, Cornwall Fire and Rescue Service and Mary Fox's daughters.
Mark Pratten, from Cornwall Fire & Rescue Service, said: "Safety packs will be given to every school in the county."
The packs will contain posters, safety advice and activities for pupils, he added.
Mary Fox, 59, died in her home when she was overcome by fumes and smoke after a firework set light to clutter in her hallway.
In May 2010, three teenagers were convicted of manslaughter and arson.