Cornwall's church votes for women bishops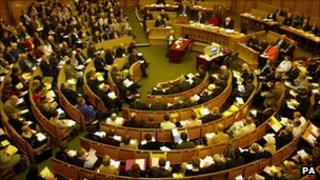 Cornwall's Church of England clergy have voted overwhelmingly in favour of women bishops.
After a debate at County Hall in Truro on Monday night, the Diocesan Synod also rejected a second proposal which would have allowed dissenters an opt-out.
The Bishop of Truro, the Right Reverend Tim Thornton, said he was pleased with the result.
The vote will now be reflected at a meeting of the General Synod next year.
More than 100 people, including clergy representing parishes across Cornwall, spent about two hours in the Council Chamber debating the issue.
Bishop Thornton said: "Some people will change their opinion because of what they see the wider church having said.
"I think you can't predict next year's vote on the voting patterns of last year, or the year before."
Leading opponents of women bishops in Cornwall declined to be interviewed by BBC News after Monday night's meeting.