New £7.4m Lizard lifeboat station nears completion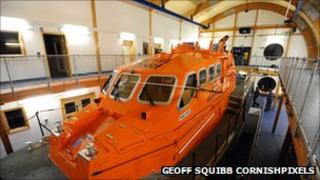 Structural work on a new multi-million pound lifeboat station at the Lizard has been completed.
It has taken 18 months to build the new boathouse and slipway at Kilcobben Cove.
The RNLI has estimated it will take about four to six weeks to kit out the interior of the boathouse and finish refurbishment work on the lift house.
The Lizard station, which is the most southerly of the RNLI's mainland lifeboat stations, has cost £7.4m.
The Tamar class all-weather lifeboat RNLB Rose is already being housed at the new station, but the office and crew foul-weather clothing are currently being kept in temporary buildings in a nearby car park.
The fully-operational station is due to open in November.