Former Devon and Cornwall industrial sites 'at risk'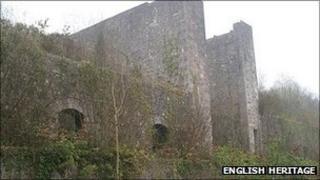 A former Cornwall mining site is among 47 historical sites in the South West claimed to be at risk.
English Heritage says overgrown vegetation is damaging Carlyon Farm clay drying works at Treverbyn.
The kiln has not been used for more than 50 years, with overgrown vegetation causing serious damage.
It says other sites have been saved by being converted into modern industrial units while protecting their architecture.
It cites the clay dries at Wenford near St Breward which could be turned into flats and work units and Robinsons Shaft mining complex in Cornwall which is being converted into a heritage centre.
Andrew Vines, English Heritage planning director in the South West, said: "Britain led the way in global industrialisation and as a result we are custodians of the world's most important industrial heritage.
"It is, however, one of the elements of our heritage most at risk."
English Heritage sites "at risk":
Cornwall
Warehouse (formerly listed as office), Perran Foundry, Perran Wharf, Mylor
Engineers Shop, Perran Foundry, Perran Wharf, Mylor
Dry sand and green sand shop, Perran Foundry, Perran Wharf, Mylor
New Pattern Shop, Perran Foundry, Perran Wharf, Mylor
Pump Engine House at Robinson's Shaft, South Crofty Mine, Station Road, Pool, Carn Brea
Boiler House to Robinson's Shaft at South Crofty Mine, Station Road, Pool, Carn Brea
Compressor House and associated buildings at Robinson's Shaft, South Crofty Mine, Station Road, Pool, Carn Brea
Carpenters' shop, workshops and forge at Robinson's Shaft, South Crofty, Station Road, Pool, Carn Brea
Gunpowder works at Kennall Vale, St Gluvias, Cornwall
Okeltor 19th Century arsenic, copper and tin mine, Calstock, Cornwall
South Caradon 19th Century copper mine, St Cleer, Cornwall
Medieval and post-medieval tin and copper mines with medieval field system on the middle and lower northern slopes of Caradon Hill, Linkinhorn, Cornwall
The Tolgus arsenic works 80m south east of East Tolgus House, Redruth, Cornwall
Wheal Kitty 20th Century tin processing works, St Agnes
Tamar Canal, Gunnislake, Calstock, Cornwall
Devon
Richmond Dock, Appledore, Torridge
Gawton Mine Complex, Gulworthy, West Devon
An enclosed stone hut circle settlement and later tin working earthworks, 540m south east of Down Tor, Walkhampton, Scheduled Monument, West Devon
Ringleshutes tinwork, Holne, Scheduled Monument, Dartmoor
A prehistoric settlement complex, length of reave, tin streamwork and stamping mill on the western slopes of Cosdon Hill, South Tawton, West Devon
Granite quarry on East Sidelands, Lundy, Torridge, Devon
Hallsannery limekiln, Torridge, Devon
Gawton arsenic mine and flue, Gulworthy, West Devon
Plymouth
South Smithery, South Yard, HM Naval Base, Plymouth