Concerns for Bude Jazz Festival 2012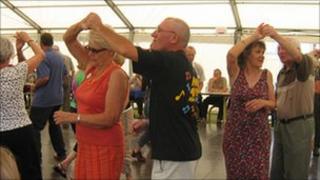 The organisers of the Bude Jazz Festival have said they do not want to hold the event next year.
A spokesman for the private company responsible for the festival admitted there were economic concerns and said it would lose visitors to the Olympics.
The festival has been a feature of late August in the north Cornwall town for 25 years.
Organisers said it was best to skip 2012 completely and relaunch the series of concerts in 2013.
Rachel Heyward, the artistic director and organiser of the Bude Jazz Festival, said: "It's an economic thing.
"In its heyday the festival attracted 1,500 people a day. This year it just attracted 600 a day.
"It's a chance to relaunch the festival to cater for the amount of people who want it now.
"We'll condense in terms days. We have been originally an eight-day festival; we'll probably reduce it to three days."
Some residents of the north Cornwall tourist resort are unhappy about the idea of a fallow year.
Paul Mayer, of the Bude Jazz Club, said to miss out on 2012 would be "seriously bad news".
He said: "It's based on New Orleans traditional jazz styles and their dancing styles. Traditional jazz is what Bude is renowned for."
Tim Browning, from the town's Falcon Hotel, said: "It puts Bude on the map.
"That weekend now, coupled with the lifeboat weekend, gives such a buzz to the town.
"It's such a great atmosphere and that would just disappear."
Musicians and local people are now considering putting on their own show in 2012.