ShelterBoxes sent to Philippines after tropical storms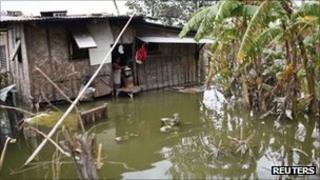 Cornish charity Shelterbox is delivering aid to the Philippines following two devastating tropical storms.
Two hundred emergency boxes are being distributed in the North East province of Isabela.
Another 300 have been sent further south in the Bulacan province.
Response team members from the Helston-based charity are working with the Red Cross, local Rotary and the social welfare departments.
David Webber, from ShelterBox said that the double blow of typhoons had "left local communities destroyed".
Another worker from the charity, Jodie Hurt, said: "Many of the homes destroyed in rural areas were Nipa huts, made of mud and banana tree leaves, and the families are extremely reluctant to leave their land.
"We've done our very upmost to provide the homes they so desperately need after such chaos."
ShelterBoxes contain a disaster relief tent for a family of up to 10 people as well as blankets, water storage and purification equipment, cooking utensils and other vital items.