Newquay Airport review 'may damage business confidence'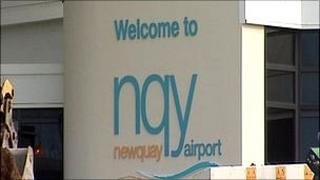 There are fears that a Cornwall Council review into Newquay airport's future may damage business confidence.
The council asked market specialists PricewaterhouseCoopers to look at investment opportunities with one option being a possible sell-off.
Liberal Democrat councillors have questioned whether it is the right time to be considering such options, given the state of the UK economy.
Councillor Edwina Hannaford said "in business, confidence is all."
Options under review include selling off the airport as a whole, a sell-off of sections of the business or bringing in a business partner.
Ms Hannaford said they were "objecting to the timing of this review" and said she did not think "selling this asset as this time is the right thing to do".
"Attract investment"
Chris Ridgers, the authority's portfolio holder for economy and regeneration said the review was "designed to attract investment".
"Yes, logic tells you that at the moment it would be difficult in the current economic conditions across the UK to find a buyer for a regional airport.
"However, I don't want to discount this idea completely because until the review has been done I don't know what options they will come back with," he added.
Mr Ridgers insisted the airlines flying in and out of Newquay were "fully onside" and said there was "no chance of a fire sale".
"In no way does this threaten the future of the airport, rather, it's to their advantage as we want to grow it and make it as successful as rapidly as possible," he added.
The results of the two-month investigation would be presented to the council's cabinet in the New Year.